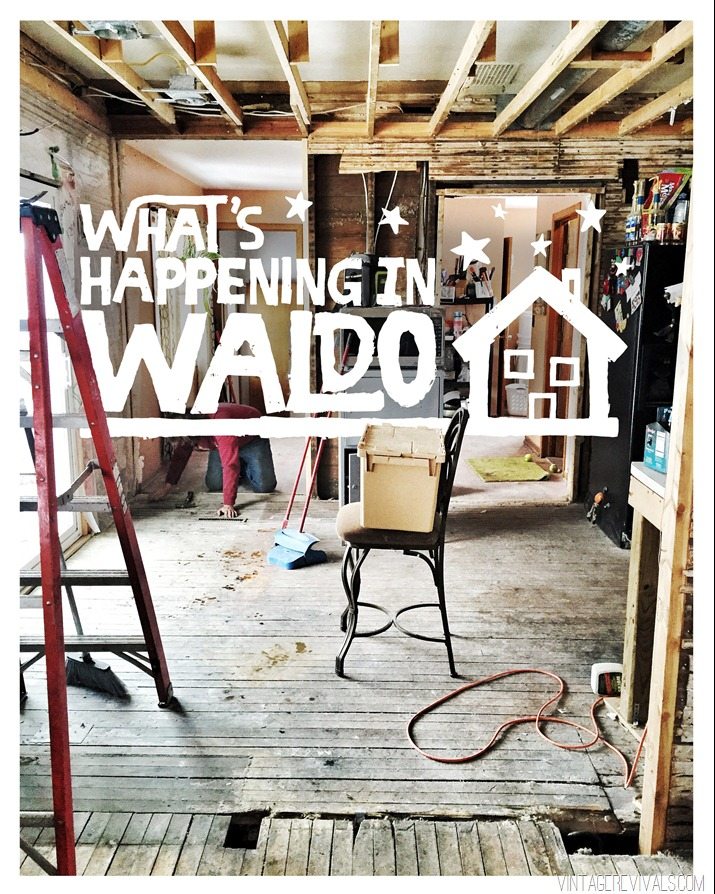 Sarah here! You GUYS! It's been FOREVER! Seriously — just look at those capital letters and all those exclamation points!!! It's been a rough few months up here in Waldo — ok, you could live in Brooklyn and then it would be over in Waldo, but in general most Wisconsinites say they live up north. It's a thing.  So where have we been? I mean obviously, not reading about our home repair fails and mishaps has kept you up at night. Please accept my apology for our absence!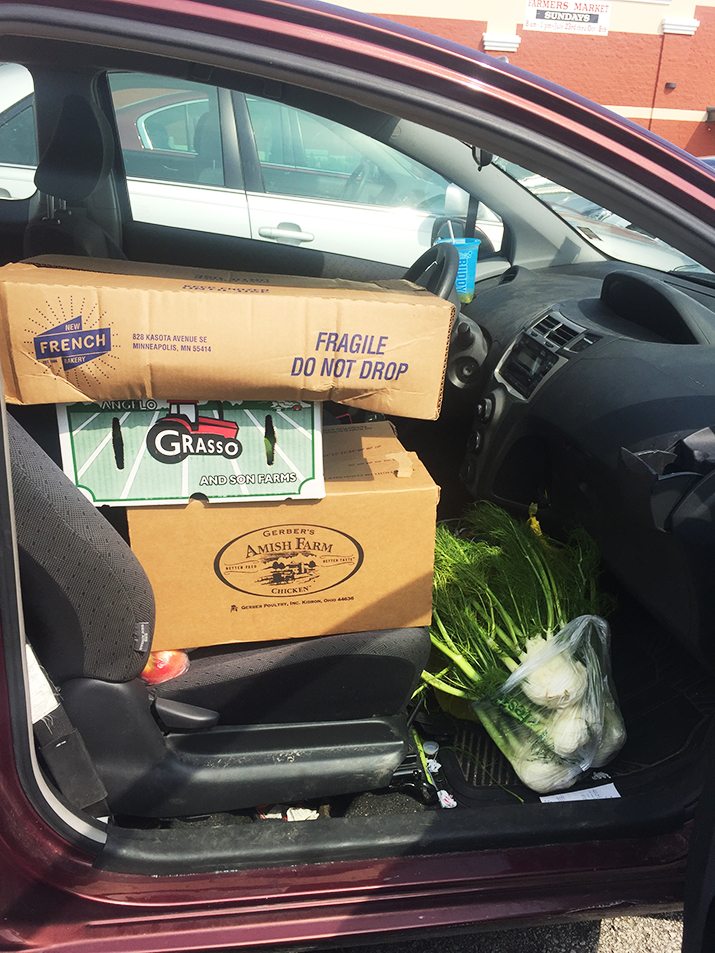 In early September I catered a wedding for a friend (in my laughable spare time) and aggravated a group of muscles in my right shoulder. In addition, the prep work that went into the beautiful event, ended up being the straw that broke the camel's back. Well, in this case, the camel's neck. Wait, that means I'm a camel. Are camel's in this year? I don't know, our tiny town doesn't have a Target or a Home Goods. Seriously, how do we even live? Anyway. Where were we? That's right, my neck. So I hurt it – but not from lifting super heavy pieces of furniture all day or home repair (because that would be a normal by-product and too easy), but from cooking. COOKING PEOPLE. Well, not cooking people, that's gross. But seriously I just can't win. Here's how it went down:
Remember how your parents always told you to sit back from the TV or else you'd go blind? Please tell me that wasn't just my folks as they also used made up words growing up and I didn't find out until I used them on a college paper that they weren't real. It was worse than Santa. Well, anyway, this is sort of like that. So take heed of my injury and don't repeat it in your own life. In fact, forward this to all your friends and your children and your friend's children, because this is important. It all started when I thought running a business almost exclusively from my phone was a good idea.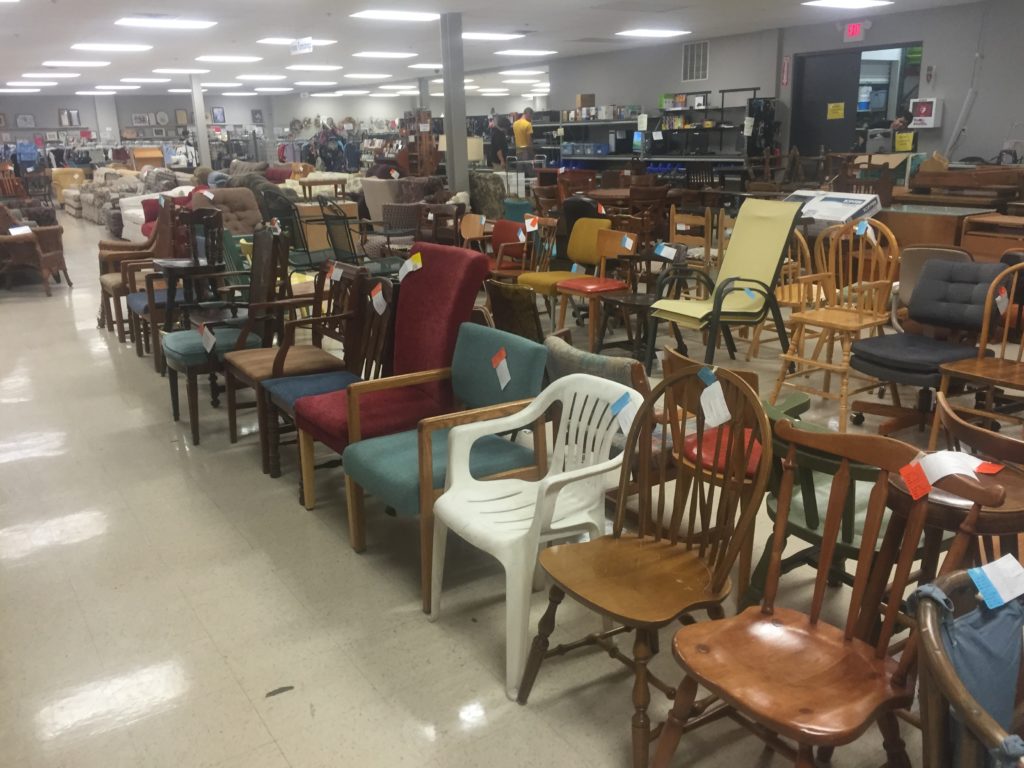 Now, working for yourself is great in regards to balancing home and life events with your work day. It's made our home renovation, although tedious and not exactly speedy, completely doable ourselves. Now, the flipside to that coin is that you're usually working longer hours and are always at work, even when you're not. So for Adrian and I that means that we spend our days seeking out great mid-century and industrial furniture pieces, fixing them up, adding a bit of spit and polish, photographing them and then driving them to Milwaukee and Chicago for resale. Side note: I don't actually get more laundry done because I work from home — I just sit amongst the piles of baskets hoping they'll put themselves on hangers because there's too much to do! I even tried singing a song in hopes that the woodland animals that live outside my door step would come do it for me, but alas, no dancing birds came to tie bows and hang dresses.
Because we're on the go so gosh-darn much, I tend to run most of our little enterprise from my phone — and why not? Things get photographed, edited and then listed on Instagram. We converse with our buyers through the same system. We post things to Craigslist via the Craigslist Pro app (which is worth every penny of the $.99 price tag) and answer emails and make phone calls. We keep track of our gas, mileage and receipts all from the phone. The only time I really sit down to a computer is talk to you all here! That said, never did I consider the effects my phone useage, was having on my body and I was still pretty sure I used it more sparingly than the average teenager.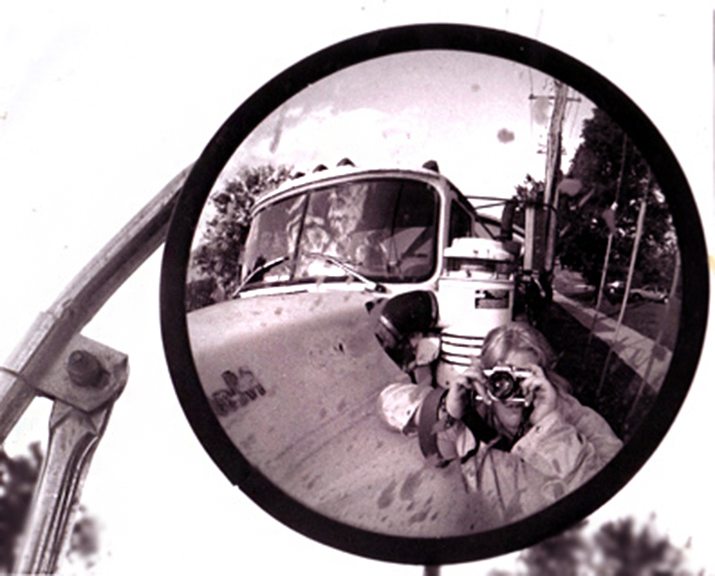 TECHNOLOGY IS SO COOL! If I stop to think about it, I'll feel old. I grew up with a darkroom in my home and my father taught me to hand color negatives to get all those sassy filters kids use for their photos these days. So not only can I take a photo or a chair, edit it, sell it and make delivery arrangements — I can do it all from the palm of my hand. Our children will never know the calmness of not having such a distraction. *sigh*
So, my neck right? I cater this wedding and because I'm a chubby gal, I finish and am exhausted and sore. A few days pass as do multiple rounds of Ibuprofen and something still isn't right. A few weeks of waiting, multiple visits to the chiropractor's office, more ice packs than you can fathom and lots of small exercises to strengthen little tiny parts of my spine and hips and I'm officially sitting up right and able to share this woeful little tale. You see, because I spend most of my days working from my phone, my spine had started to revolt and the catering job was the final straw. Strained muscles and a few leaking/pinched/owwwww discs later and I found myself flat on my back unable to move. Or eat. Or dress myself (overrated anyway so that wasn't a huge loss), or cook, or clean (psssh we're renovating), or work, or type, or write, or make money or DO ANYTHING AT ALL! YOU GUYS IT WAS THE WORST! I know there's far more horrible things happening in the world today like politics and the remake of the Toblerone bar and oh yeah…. cancer. But this was wasn't far off as it had an impact on every single facet of our lives.
Think about all the tiny things you do during the day, no matter how small. Now DON'T do them. When it happens for one day, it's a "me day". When that happens for a few days, the kids call it netflix and chill, but when chill turns into Hell freezing over, well Houston we have a problem. It surpasses the times you're sick and your significant other is forced to do things around the house you'd normally do and ends up doing every last, loving thing.
Normally, this isn't the end of the world. Injured parties stay home and geek out on new fall television or old movies you can quote by heart.  "If peeing your pants is cool, consider me Miles Davis!" The other person goes to work and comes home and helps pick up the slack — but when your day was filled with housework and business work AAAANNNDDD installing a new steel roof on your house, well then things get a little bit more complicated. Normally I run the majority of the back end of the business. I do the photography (which is why I'm never on camera — which I'm ok with) and the locating and selling of the furniture. Adrian is my muscle and my repair guy/craftsman/woodworker/handyman aaaaand the person who has to stand outside in the pouring rain for hours waiting to pick up furniture from auctions that had poorly planned pick up dates. He says I have the hard job and I say the same thing about him. But when winter is coming and you have a house to roof before your girl's room turns into a literal snow globe — it gets a little dicey.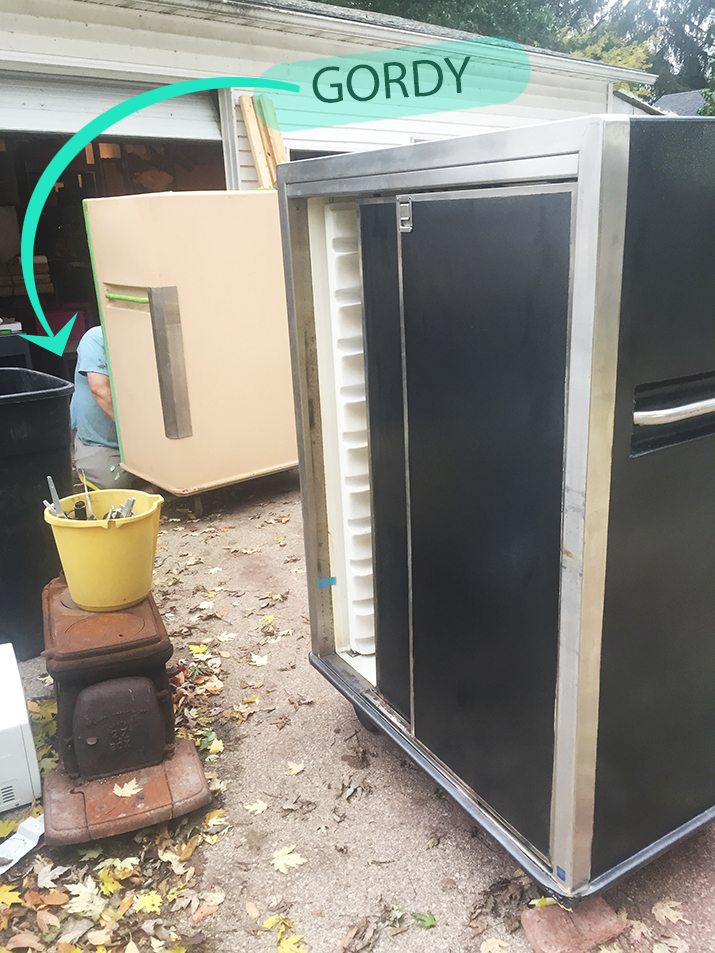 Enter – the brother-in-law! Seeing a need, Adrian's sister's husband (got that?), Gordy quit his job and came to work for us. It's both equally awesome and terrifying to have a full time employee but it wasn't a moment too soon as I became quickly incapacitated. He's helped lighten Adrian's load of cleaning up furniture and giving things a new shine and has  taken my place as the other half of the muscle on deliveries and pick-ups.
As I slowly have begun to heal (and trying to operate business by only looking at my phone while holding it above my head — seriously, try it — the worst), like most people I've tried to take on a little too much too soon. I'm still completely uncomfortable in my skin for any length of time. And per doctor's orders, I can only sit for more than 15 minutes at a time and have to take extended breaks with exercises between to not regress, so it's taken me the better part of a day to write this — no really [UPDATE: It's actually taken a week]. So I wanted to say thank you to our loyal readers who have emailed or made mention when we drop off furniture, about what our next project will be, we missed you too. No really, we did. Because seriously, there's only so much Grey's Anatomy to watch.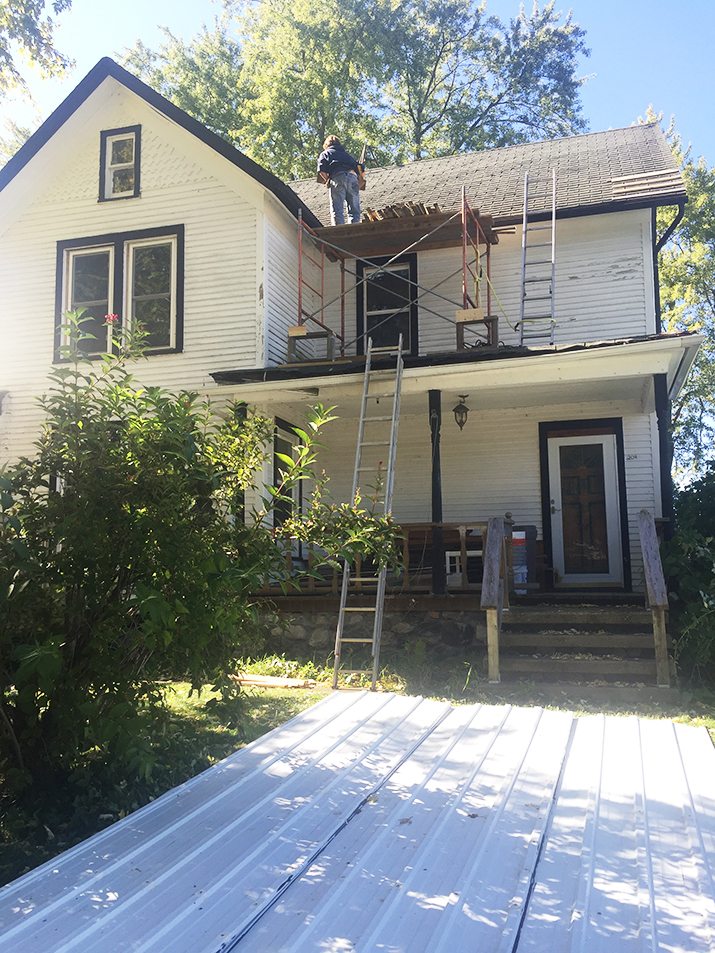 Up next is how to reclaim a roof with little to money — subtitled how to enslave your husband and father-in-law for the better part of a month (and then some). Sub-subtitled: How to feel guilty for watching Grey's Anatomy while everyone around you works and you just lay there and the dog stares at all hours of the day. Until then, remember take a break from your phones and tablets. Interact with the real world. Enjoy being able to put on pants with a button or doing laundry, heck, even cleaning out the refrigerator and being mad that you didn't use up all your parsley — because when you can't life is miserable and as much as we like interacting with others, real life is always better!
The post The Time My Cell Phone & A Chef's Knife Left Me Incapacitated appeared first on Vintage Revivals.